Trollbeads Fest! 2017 Information Blog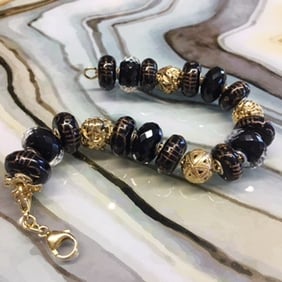 On October 6 & 7 Trollbeads Gallery will be hosting our 8th Trollbeads Fest! Our first Fest was a historic event as it was the first of it's kind of Trollbeads celebration and now we are holding our 8th one! Below is condensed information to help you learn about it! If you love Trollbeads you'll want to be here!  
We always have an outstanding Event bead and this year's bead is the Black Longevity Bead shown above.  We will also have over 100 Unique Armadillos and hundreds of Fresh Unique beads and a few beautiful butterfly beads!  Trollbeads is also providing 4 new Event beads that will ONLY be available during events and I can tell you that two are beautiful stone beads!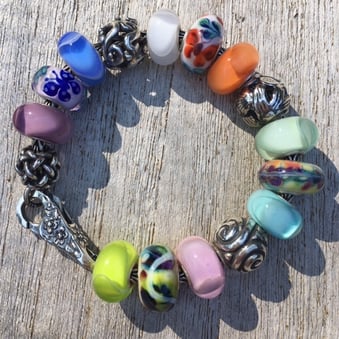 So call your Trollbeads buddies and make your plans for a fun weekend! 
We look forward to seeing you!! 
Where: Rogers Gallery, Route 6, Mattapoisett, MA 02739  Telephone 508-758-3641
Event Schedule
Friday, October 6th:  
9:30 Doors open and bead play begins!
12:00-1:00: Lunch offered. Sandwiches buffet style.
4:00 -6:00: Wine and Charity Bead Auction. Auction items listed below.
Saturday, October 7th:
9:30 Doors Open and Bead play begins anew!
10:00 – 5:00 We will have a glass artists making glass beads!  Have a seat and watch the remarkable process unfold.  
12:00-1:00: Lunch Offered.  Sandwiches buffet style.
Specials:
Buy 3 Get 1 Free to help you make the most of your Trollbeads dollar!  We will have hundreds of unique Trollbeads to offer you and I am already saving the great uniques to have for you!
We will also be offering a free $46 chain with a purchase of any upgraded clasp!
We will also be offering two free silver stoppers with a purchase of any silver or gold bangle.
We will also offer you 25% Off all Fantasy Necklaces.
Our Silent Auction for Charity is for the American Cancer Society and we will be auctioning off the following:
Trollstone
Old Antique Flower
Pokemon Bead
Crazy Lace Agate
Giant Carved Rose Amber
Amber Bead With A Bug!
There is no entrance fee for this event but you will be getting a gift from us as a token of appreciation.
RSVP's: We would appreciate if you could let us know if you are coming and if you would like to have lunch with us.  It helps us plan for food and help! Feel free to email me at 
If you need hotel suggestions click on this link and see the area's hospitality suggestions!  If you are coming from a distance it may help to know we are 1 hour from Boston, 45 minutes from Providence and 30 minutes from Cape Cod!
There is so much to do and see in New England in the Fall!  We hope to see you!
Here is the reservation info for the hotel in Fairhaven, the town next to Mattapoisett.
Hampton Inn has agreed to hold a block of rooms at $149.00 +tax for a standard room with 2 double beds or 1 king bed. These rooms will be held until September 5, 2017.
Booking Link Below!
Guests may reserve by calling the hotel directly and referring to the Rogers Gallery / Troll Beads Block, online at www.newbedfordfairhaven.hamptoninn.com , or by calling 1-800-HAMPTON and referring to Group/Convention code RGT.